New Jamis Bicycles
A good bike is a joy to ride, which perfectly describes the Jamis experience. With a well-deserved reputation for quality and styling that is second to none, Jamis has more than 100 models of bicycle — everything from lightweight racers, robust touring bikes, hardtail and full suspension trail bikes, cross-country racers, cruisers, town bikes, and commuters. The Jamis company is dedicated to making bikes more accessible, more affordable, and just plain more fun, making cycling one of life's finer pursuits. We are proud to be the exclusive dealer of Jamis bicycles for central Illinois.
Here are just a few examples of why we love Jamis:
Nova Cyclocross Series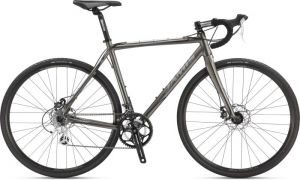 700-nova sport 850
The five models in this series span the range from a rugged do-anything ride to serious podium contenders.  Pictured is the Nova Sport, selling for $850; one of the most versatile bikes Jamis has ever built.  Its features include a lightweight 7005 aluminum frame and fork and disc brakes that stop on a dime.  The Nova sport is as ready for the Monday morning commute as it was at the local cross race last Saturday, and it's just as ready to be loaded up with panniers for next month's adventure tour.
Steel Performance Series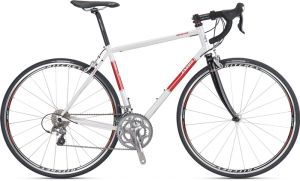 700-quest femme
There is an allure to steel that transcends its traditional appeal.  The legendary ride of a steel bike is buttery smooth; it absorbs road shock instead of transferring it to the rider.  A world away from the heavy "clunkers" of the past, steel bike frames can be made stronger and lighter due to advancements in steel tubing manufacture.  Jamis is one of the few companies to offer a wide range of steel, such as the Quest Femme pictured here, weighing in at just 19.5 lbs.  "Steel is real!", as we like to say.
Youth Series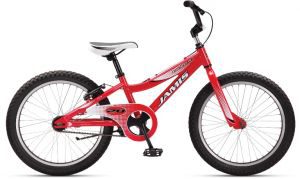 700lazer 2.0
Every Jamis youth bicycle is thoughtfully designed.  All provide a low stand-over height to take the awkwardness out of getting on and off. Gender specific components, such as wide saddles and fenders on the girls models, and tough, long-lasting grips and knobby off-road style tires for the boys, make these bikes very comfortable to ride.  A design philosophy of spec-as-much-alloy-possible makes for a lighter, easier to pedal bike and slows the metal oxidation rate, making them extremely durable.  And, where department store kid's bikes will have painted or chromed parts that start to show chips and rust in about a year, Jamis uses black electroplating to further insure aesthetic durability.  We at Bicycle Doctor are so confident in these bicycles that we have started an outrageous buy-back program.
Grow-up & Trade-up:  Buy your child a 12″ or 16″ bike and when he grows out of it , trade it in for half the price you paid when you select a new larger size Jamis.