Used Bikes
If a restored, recycled, or "resurrected" bike is more your style, Bicycle Doctor has those, too. All freshly tuned and ready for many miles of trouble-free riding. Here's just some of our reasonably-priced used bikes, just looking for a new home .
Like new 2018 Trek verve 3 , 17″ frame. $450.00
Like New Trek Shift 1. Excellent condition. $350
Refreshed Jamis Ventura Sport. Size 51cm. $250
Aluminium Giant Defy 3 size M/L 54cm. $450
Rebuilt Trek 7500 multi track. Totally rebuilt
Raleigh Technium Mtn bike. Rebuilt,new tyres.
Schwinn urban mtn bike
Comfort bike with new wheels and fresh tune up
Here is a lovely 7sp cruiser in like new condition. It's a Mom bike special!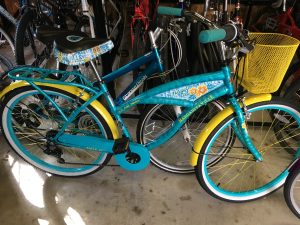 What a deal! Barely used Sun trike with the 3 speed Coaster brake upgrade. All tuned up and ready to cruise the neighborhood. Priced to sell at $399.00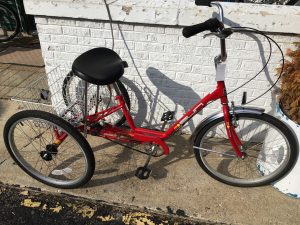 ————————————————————
Here is a group shot of some of the great cruisers that I have on offer. The lovely purple mixte is a "Flying Pigeon". It is a brand new bike from the largest bike maker in China. Great for the shorter rider and priced at $199.00
The black bike is a shop built aluminum cruiser with a new coaster brake wheel set. Featuring wide tyres on purple alloy rims, Comfortable wide saddle and new grips. A fresh build…so like new!
The white bike in the back features "Ziger" deep V rims. Hand built by the Doctor himself. Coaster brake and BMX handlebars.
Hard to see in this group, but worth looking at….two very nice Raleigh comfort cruisers. Both priced at $225.00 each. Completely rebuilt and ready for many years of trouble free service.
the yellow bike is a GT aggressor mtn bike with a fresh rebuild, including a new front shock fork, new tyres,grips, saddle, and much more. $225.00
OK….hard to see, but several nice older road bikes and a french mixte. Prices vary. $90.00 to $350.00