Front Page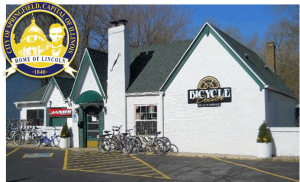 What we do:
We are a small, service oriented bike shop.
Although we primarily serve the Springfield area,we also provide quick service for out of towners and visitors in town for the day.
We can help with hard-to-find parts and accessories.
We make a bit of a specialty of updating high-quality older bikes with modern parts, for the rider who doesn't want to give up on an old friend, but wants more gears, better brakes, a more relaxed position, etc…
We do, what we like to call, Sympathetic-Restoration to older/vintage bikes, this means …  cosmetic repair, short of repainting.  Metal work, reproduction/locating of missing parts.  Complete overhaul of your bike will make it work like new.,  but still retain that well earned patina.
Special needs modifications for physical issues.
*Tandem Tadpole
*My special pedals.